About chance to dance
Chance to Dance is a not-for-profit organisation. Chance to Dance is a unique dance school, that prides it's self in adapting movement and music for all children and young adults with a disability. Giving them access to a dance school and other activities that are structured and designed around who they are and their needs. These children and young adults are a true inspiration to me and my team.
What to Expect
Welcome circle
Introduce everyone - a chance for the students to meet others and to develop upon communication
Warm up
Corner and floor work
Dance routine incorporating various dance styles
Cool down and Relaxation
Sensory Play

The students will practice the routines each lesson and then perform for parents and family friends in a showcase once a year if they wish.
Styles of Dance
Modern
Lyrical
Contemporary
Hip Hop/ Street
Ballet
Theatrical
Jazz

We use all the above throughout the sessions, however we accommodate movement to the students ability. Please be aware that not one type is taught at a time.



Dance Teacher - Victoria Andrews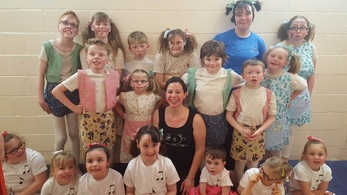 Hi my name is Victoria Andrews and I am the dance teacher and owner of A Chance to Dance.
I have been a dancer myself for over 13 years. I specialise in contemporary, lyrical, modern and ballet. I hold my DTF exams in Ballet Level 4, Modern level 5 and Tap level 3. I also studied dance at School and College.
​
​I have been very lucky to gain such amazing experience working with additional needs children and adults. I worked summer 2015 as an Activities Coordinator at a SEN Summer Camp for 12 weeks supporting campers from 7 to 70 years old to have an experience of camp life adapted to their needs. I worked with severe and complex children as a Teaching Assistant in 2013. I provide day, evening and overnight respite to families, as well as respite outings in the community in small and large groups. I am a freelance dance teacher working in the community and schools. I began running dance classes at a special needs holiday club based in Tilehurst focusing on performing and fitness.
I have also worked with Wokingham MENCAP Saturday club and Youth club. These children were passionate about dance and loved learning a routine.
The Chiltern Centre were also a joy to work with and loved the range of music used.
I hold Public Liability Insurance to hold dance classes in public venues. I am CRB checked, First aid and manual handling trained.
---
Volunteers
I am very lucky and have a range of volunteers who give up their time to help the classes run. All volunteers are either dance trained, SEN trained or both. They all have CRB checks and are always with me. Without volunteers we would not be able to run these classes.

If you would like to become a volunteer please ring or email about more information.